As I've been talking about recently, I'm doing the  Empire State Building Run-Up in February, 2014. I've been training on my office building stairs…and trying to get the story out to as many people as possible. It's going to be tough….It's ONLY 1,050 feet. Straight up. 1576 steps, and 86 flights of stairs. Only 700 runners get in each year, and fewer than 7,000 runners have completed the climb in the event's 36 year history.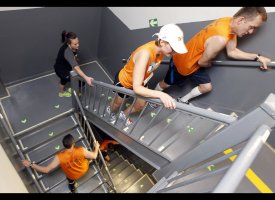 I guess the big question is, "Why?" My first answer is to raise awareness and funds for the  Multiple Myeloma Research Foundation (MMRF). One of my high school friends was diagnosed with the disease, and I want to bring attention to the cause. The more personal answer is that I understand what it's like to have your life dramatically changed, and what it takes to come back from a major physical setback.
In 2004, I was in a motorcycle accident that fractured my L2 vertebrae. According to the ER report, it was an 'explosive' fracture, along 3 axes, with 60% compression of the spinal canal. My right leg was initially paralyzed, and I went through major surgery for a spinal fusion from T12-L3. I was literally glued and bolted back together. After surgery, I was immobilized in a TLSO (Thoracolumbar Sacral Orthosis) brace from my armpits to my hips to keep from moving and causing more injury. I was in critical care for over a week, and in a rehab hospital for 6 weeks after that.
I had to learn to stand all over again. I had zero strength in my legs, had to have nurses help me in and out of bed, and I couldn't even take care of my most basic needs. As I healed….and as the nurses and doctors did their work, I slowly got better. Working with a physical therapist (who must have been a Marine drill instructor), I built strength little by little…until one day I was able to push up out of the wheelchair. Another day, I was able to support myself on parallel bars….and then to take a step with a walker. Then I was able to take multiple steps using the walker….and eventually take a step on my own. Then two steps…then 10. After 6 weeks, I was discharged to go home and work improving on my own.
The first day, I walked to the neighbor's mailbox…and almost had to call for a ride home. The next day, it was two mailboxes, and each day, I went further. Over time, I built up strength and coordination, and took up cycling. After learning how to balance properly, I rode 100 feet, then a half mile, then a mile….and eventually rode as many as 100 miles in a day. Since then, I've ridden over 10,000 miles, and in 2013, ran a bunch of 5K's, a 10K, a 10 miler and even a half-marathon.
2014 will mark 10 years since my accident, and I'm doing the Empire State Building run-up to remind myself of just how far I've come. It's taken a lot of work, but a lot of credit has to go to the doctors, nurses, therapists and technologies that helped me get to where I am today.
And that brings us back to the MMRF. Treating and eventually finding a cure for Multiple Myeloma isn't as straightforward as bolting me back together. What I went through wasn't easy, but once I was stabilized, the path to recovery was long, but clear. I am incredibly grateful for my medical interventions – but know that in the case of Multiple Myeloma, it's going to take a lot more research and study to find a cure. The MMRF is pioneering indidviualized treatment approaches, which can translate directly into longer lives for MMRF patients. THAT'S why I'm doing this.
How can you help?
1) By making a donation to the MMRF through my ESB Run-up page
2) By sharing this story through e-mail and social media
I am very appreciative of any donations, but even more thankful to spread the MMRF story, and how people can help the cause. I've gone from learning to walk all over again to running to the top of the Empire State Building. Join me in the climb by making a donation to MMRF.